Please Note:

We DO NOT take reservations. Guests will be seated on a first come, first-served basis.
We seat parties:
• only when all guests have arrived
• as efficiently as possible based on party size
SUGARFISH Studio City
11288 Ventura Blvd # C
Studio City, CA 91604
Phone: (818) 762-2322
Monday through Saturday
11:30 am – 10:00 pm
Sunday
12:00 pm – 9:00 pm
Dinner service begins at 3:30 pm
Parking

We have valet services from 11:30am-10pm in the front parking lot.  There is a $5 service charge for valet.  There is also street and metered parking available.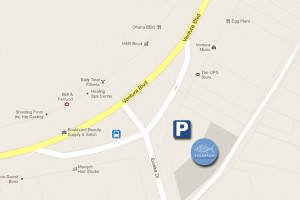 Holiday Hours
We are closed on July 4th, Labor Day, Thanksgiving Day, Christmas, and New Year's Day. We will be open until 3 pm, serving lunch only, on Christmas Eve and New Year's Eve.
Factoids
Chef Kazunori Nozawa, co-founder and president of SUGARFISH, opened his legendary namesake restaurant, Sushi Nozawa, in this space back in 1987. The restaurant received rave reviews and consistently placed in the top tier of Zagat's overall food ratings and garnered a dedicated and enthusiastic following among Nozawa's customers. Sushi Nozawa also helped to establish what's known as "Sushi Row" in Studio City, a one-mile stretch of Ventura Blvd. that is home to some of LA's most highly-acclaimed sushi restaurants.
SUGARFISH Online Order
SUGARFISH online ordering is available for pick-up service.
Click on the laptop icon if you want to order online.
Or use our app powered by ChowNow to order.
Gift Certificates
Our gift certificates from SUGARFISH and Nozawa Bar will please all of the food lovers on your list.
SUGARFISH certificates are available in denominations of $50, $100, $150 and $200, and they can be purchased at any SUGARFISH location or online. >
Nozawa Bar certificates are available for dinner for one or two guests as well as an option that allows you to book the entire restaurant for a private dining experience.* >
I have to tell you again what an absolute pleasure it was to be a part of the pre-opening tonight at Sugarfish. The food, like always, was absolutely spectacular. The fish could not have been fresher. Like I said to Nozowa on my way out, its up to par with Tsukiji Fish Market in Japan. I was convinced nothing could ever taste like it did at that fish market at 5:30am at Tsukiji until I was introduced to Sugarfish. As fresh as you can get it, with the sushi rice that doesn't compare in flavor to anything else out there.
— Jeremy Fratkin